Denzel Chisolm has a reputation for being one of the busiest dancers in the dance industry. If there are dancers on a job, there's a strong likelihood that Denzel is one of them. He can easily be spotted on award shows, in music videos, on tour and on television. His credits include A-list artists like Janet Jackson, Ariana Grande, Katy Perry, Jennifer Lopez, Taylor Swift, Nicki Minaj, Rihanna, and Beyoncé. Despite having a packed schedule, he still makes time to teach class on a regular basis and share his knowledge. So what keeps Denzel going, and how did he get to where he is today?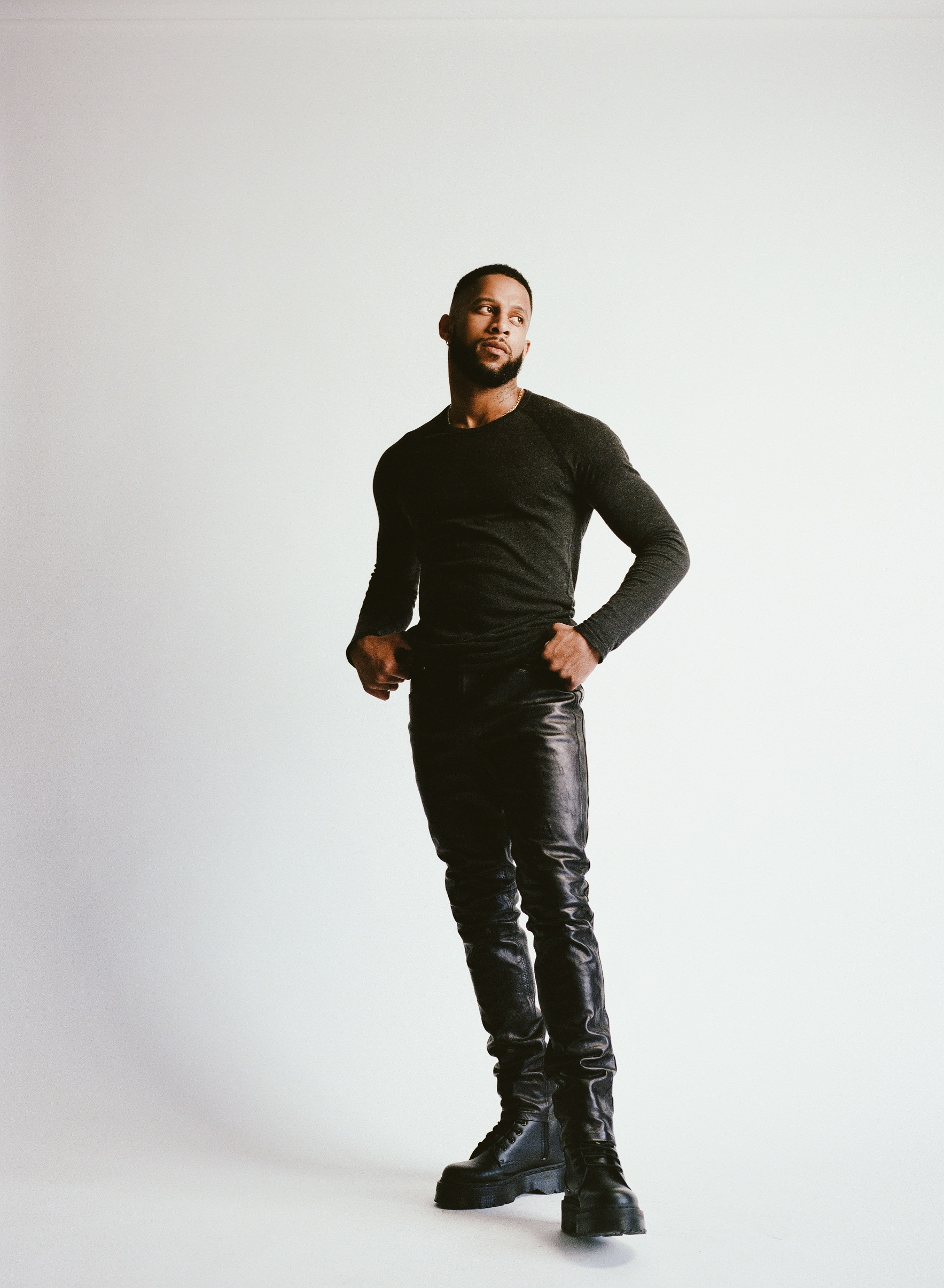 Who is Denzel according to Denzel?
Denzel is a dreamer, a funny guy who's determined. Hard worker, a lover.
What is your story? How did you find dance?
I used to watch dance on TV and music videos, but I didn't know where to do it or how to get into it. In ninth grade, I met this girl and she was doing the talent show– she asked me to be a part of it! So that's how I kind of started. From there, I joined the dance group she was in. It was a good place to go after school and meet people. From there, I joined another dance group that was more professional and that's how I got into the business and figured out what classes were– I got introduced to Broadway Dance Center. After two or three years in that group, I did my own thing and I moved to LA in 2012. I figured it out.
What keeps you from burning out?
I'm still enjoying dance. Classes keep me on my toes and I take different styles. If I'm training or I get into the studio with someone, that keeps me going. I don't want to just dance like myself. I need to get introduced to new movement. Class is somewhere you can just practice your skill, have fun, and enjoy people. I also love teaching class– I feel like my class will outlast my dancing. I'm going to teach for a really long time. That's a place I really enjoy.
I do feel like I need to take breaks here and there so I don't get burnt out. So it doesn't feel like everyday I'm doing the same thing. I feel like I'm at a different place so that when I do dance, I really enjoy it. I give myself another good five or six years as a dancer. I just don't know what's next!
Do you have dreams for yourself?
I want to act. Teaching helped me with talking– I used to not like talking! I feel like there's something in there for me in the acting world; I just have to dive in. There's so many roles out there, so it's just a matter of time and hard work! It's way different than dancing. If I dive in, it might not happen right away. It's something different!
Outside of that, I like to take pictures and I do some modeling. I do that for myself. I create my own work. I just do it because I want to do it. I think those two are the two main things that I want outside of dance.
Your class is very popular and often sells out. What do you do in your class that resonates with dancers and keeps them coming back?
I'm very grateful to be in a place like that. That people trust me to teach them and to give them something that they can take home. I create a fun environment so it's not stressful.
I'm in both worlds. I'm in the industry world and I'm grateful to still be able to work, as much as I love teaching too. I feel like there's a separation when certain people start to work a lot, that they're not teaching as much and then you don't have as much access to some things. A working choreographer won't be able to teach as much. I've been teaching now for over 8 years, and I've built an audience. They follow me and I can tell them what I heard yesterday in rehearsals. It's where they want to be, so anything I give them, they can take it and chew it up.
But sometimes you just want to dance and enjoy yourself. I try to give people a good time and I think that's why they keep coming back.
I remember my first class at Movement Lifestyle– there were only like six people in there! Studios would tell me, "No, you can't teach here," until ML took a chance on me and now TMilly is my new home. I look forward to Tuesdays every week. I go home afterwards and think about it all night. I'm very grateful to be where I'm at and I'm happy it's perceived like that.
As somebody who sees dance in the classroom, where is the separation for dancers who aren't quite hitting their mark and booking work yet?
It's the work ethic. When they're learning something, are they going full out? Are they lazy? Are they committed? You have to ask yourself those things. A lot of it is muscle memory too. Everybody learns differently and there's a lot of information, but you can feel when someone is really in it or if they're just there.
The separation is that determination and commitment and how hard you want to get it. It shows as a result. That's something you can't teach. You have to have that and want it. We can only give so much but it's up to them to take it. Some people have to work a little harder to get it.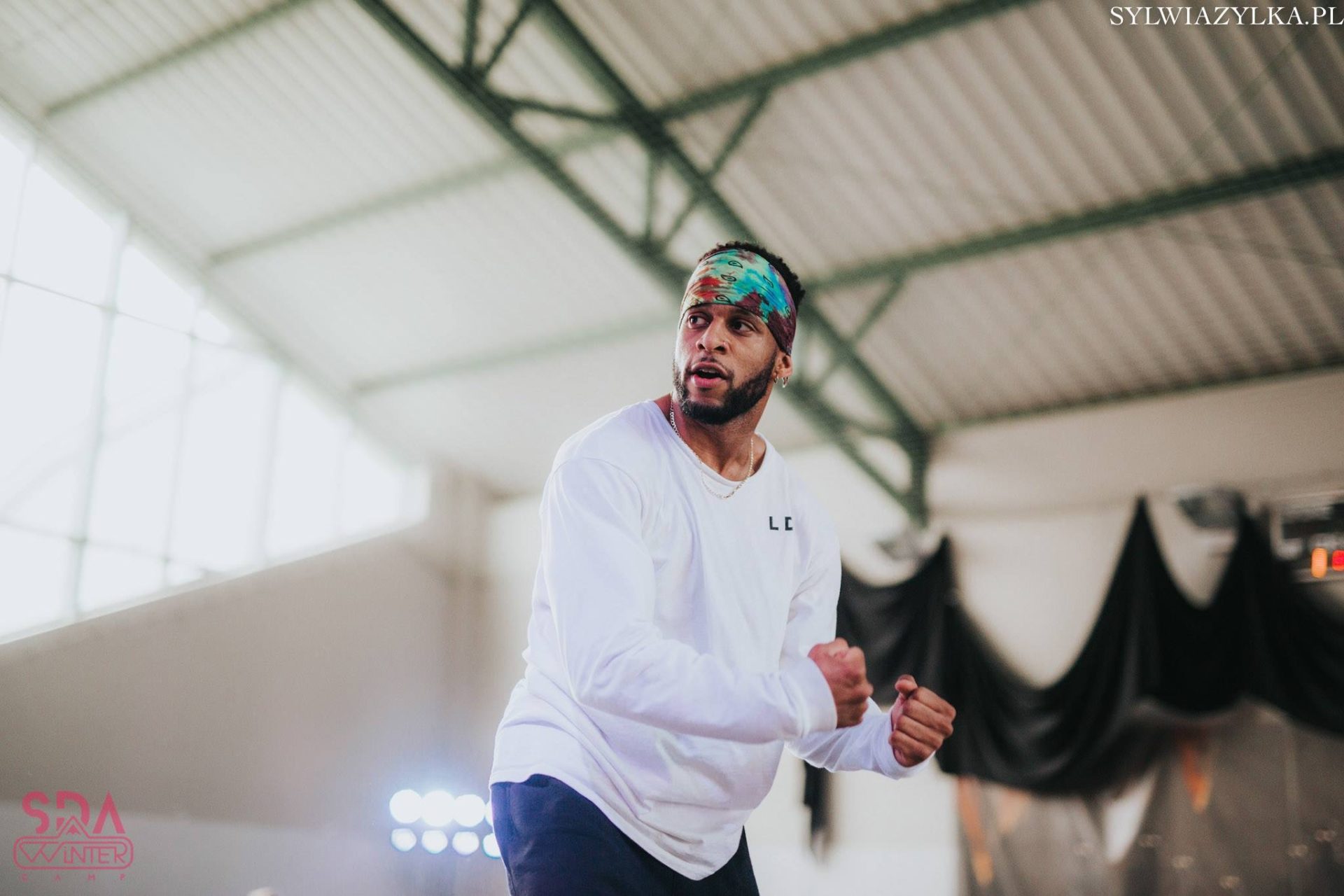 What is something you're most proud of?
I'm proud of how consistent I've been. When I look back, things happen so fast, and then it's always on to the next thing. I make sure to really be present and celebrate myself and the people I'm with. I moved here ten years ago and I'm still doing my thing.
I've been able to do what I love and it's been paying my bills! I could always use more money, but I'm at the point where I established myself to now get calls for stuff. Being an inspiration for people and being inspired by the people I get to dance with now. I'm happy and I'm proud of that.
How can people support you?
People already do. People can show love and be honest. I'm not for everybody, but I feel supported. Just be honest. Be yourself.
Students love to hear feedback, but I would love to hear that as well! If there's something that I, as a teacher can work on– certain methods that you might not like, if I can speak up more, if I need to slow down… I want to still be better and make sure my students are okay. I rarely get feedback on my teaching!
Join us when Denzel teaches in-person at our LA studio!
See more of Denzel's choreography HERE
(And since we're here, follow TMilly TV and TMilly Studio on Instagram too!)