Los Angeles has one of the largest, if not the largest, dance communities in the world. If you want to work in the commercial industry or train with the best of the best, LA is the place to go. Every year, thousands of dancers and artists make the move from their prospective homes to La La Land in pursuit of their dreams.
Making such a move can be daunting! The city can be an intimidating place with so many unique particulars and rules. Things like:
Pay attention to parking signs!
Make sure to know all the vaccine and mask requirements for each spot you go to.
Make time for traffic and slow transportation.
Never film class without asking the teacher first.
Don't stress. Hakuna Matata. I'm here to give you an insider's perspective of everything you need to know to be the best version of yourself in this over-populated and under-served city.
Pick Your Spot
Let's start at the top. Los Angeles is a massive city with lots of pocket neighborhoods. Where do you look for living spaces?
Dancer Sarah McGinley, whose credits include legends like Taylor Swift and Ella Eyre, made the big move at the tail end of 2019 from Ireland (yes, Ireland!). "Start looking in North Hollywood," she says. "Most auditions are here; all the studios are here! There's lots of rent control–you can go online and see what areas have it."
There are also plenty of good spots in surrounding areas like Sherman Oaks, Burbank, and Van Nuys–all within easy driving distance. You will find prices tend to be a little bit higher than you may be used to, but it's possible to find affordable living. "Do not pay $800 to share a bunk bed!" Sarah warns. "You can get good deals. All the apartments I've found have been through Facebook Marketplace, but you can also look into Gypsy Housing–it's all artists!"
Find Your Community
Odds are, if you're new to our sunny city, you probably don't know too many people coming in. We all need a few good friends to lean on (for our own sanity). Luckily for you, there are a number of great programs in existence to not only meet like-minded dancers, but to level up your training as well.
Danielle Eves has danced with artists like JLo and Bruno Mars, but before she was an accomplished performer, she took on a mentorship program with Kim Gingras. "Kim broke down finances, how to market yourself, how to get an agent, goal-setting, and what your next steps should be," Danielle explained. "She's the reason why I got signed and why I can do bigger jobs. I feel like mentorship programs are the best thing you can possibly do if you have the money."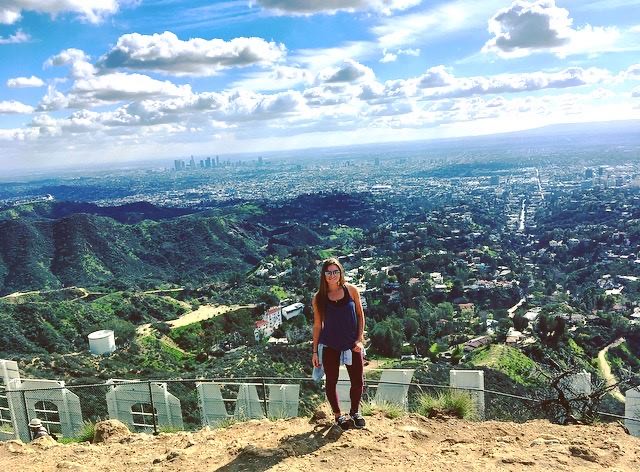 There's a massive amount of training programs in Los Angeles. Other great leaders and programs include Formyoula with Cat Rendic, LA Establishment, MOTUS, Cameron Lee, Lume Dance, and Dana Foglia–and that's only scratching the surface!
But let's be real. Mentorship programs can be expensive. Luckily, there are other options.
Sarah runs the workstudy program at TMilly Studio and cites it as a great resource for artists working on a budget. "Workstudy programs allow you to work in trade for class," Sarah informs. "In the current financial climate, we're all very particular with our dance dollars–as we should be! A workstudy program is a very good way for you to add some versatility and expand your training. Dancers can try new things and take new classes and build connections with choreographers and people in different parts of the industry they might not meet otherwise."
There are so many opportunities to find your tribe and get to know other dancers. There's always something happening! The dance scene hosts various showcases, battles, jams, sessions, and a staggering amount of exceptional classes! Speaking of which…
Stick Around After Class
"The times when you finish class and you're talking to the teacher are literally as important as taking the class," Sarah says. Surprised?
Danielle agrees. "If you like a choreographer, and you want them to remember you and know your face, stay after class 100%. They can actually get to know a little bit of your backstory, what you struggle with. They can see that you're working on stuff. Ask for advice to show that you're a hard worker and are listening and learning from them–that you're not just coming to their class to show face."
Don't be too thirsty in your conversations, either. Teachers and choreographers can spot it a mile away. Instead, focus on the experience and creating genuine relationships. "Most of the people I take class from, I really like as people, so it helps and it shows that I'll be pretty consistent with those," Sarah shares. "It's important to find people that you can connect to. It makes it feel more special, and then you also dance better!"
Take Your Time
Before making my own move to Los Angeles, I remember how strongly it was stressed to me that I needed an agent to be successful. That I needed my headshot, reel, resume, casting profiles, social media and high-and-powerful-friends in order to hit the ground running and make things happen. Through all of it, however, nobody reminded me to slow down and breathe.
"Don't focus so much on signing to an agency," Danielle encourages. "Sometimes you're gripping so tight to your dream and you're so worried about it that it's what pushes it away. Instead, work on making connections in class and getting all your stuff together so that when you actually get to a place where you've struggled and learned, you can make a case for yourself. You need to actually be ready to compete with people who have been at 'Bloc Talent Agency' for seven years."
The bottom line is that Los Angeles is built to be more than just a tool for your career, and you should treat it as such. There's so much space here for growth, exploration, creation, and discovery–of yourself! So don't apply pressure to book all the biggest jobs right away. You have time.
"There's so many opportunities here, but you also need to create your own opportunities," Sarah encourages. "LA's a unique place compared to the rest of the world in the ability to be whatever you want to be–and no one will question it! It's like a playground for adults. I always knew there was something special about this place, something different. I didn't realize until I was actually here just how much it can change your life if you let it!"